Discover more from TheFUSE — A Wichita Falls Arts & Entertainment newsletter
TheFUSE is an independent newsletter about art, food, music, entertainment and happenings in Wichita Falls, Texas and the greater Texoma area. All photos and original content © FallstownFUSE.com
What's the Cost of a Great Photo Shoot?
Basics gives us all a lesson in sacrifice for the sake of music
Basics is a great emo/punk band from Wichita Falls that I wrote about previously when I caught them as one of the opening acts for Rat Boys at the Iron Horse. I got to chat with bassist Trevor and drummer Maycen for a little bit that night, and kept in touch with them on social media. I think Basics has promise.
Eventually, the guys in Basics inquired about promo photos, and three weeks later, we spent two hours in 106° heat to capture a sublime catalog of promo photos. I finally got to meet singer and guitarist, Austin Rupe, nobody complained about the heat, and everybody was totally natural.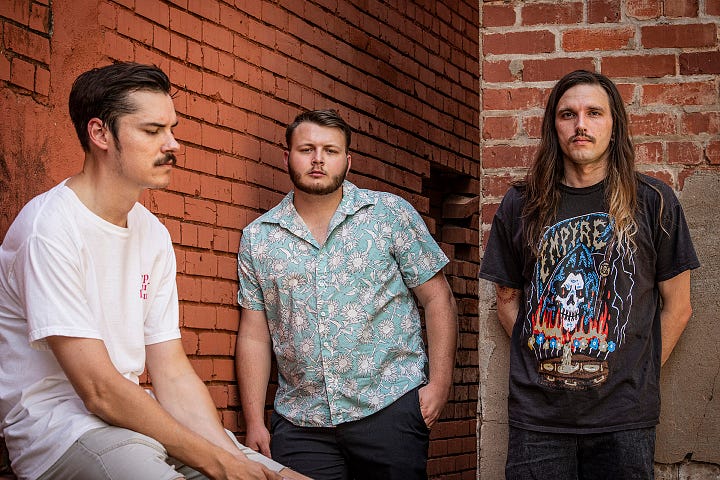 I discovered during the shoot that an Android shooting 8K video in direct sunlight on a 106° day would overheat and just quit. The grip on my tripod would decide to give out, too. Austin discovered his friend Whitney's sunglasses were easy to break. One band member even braved a fairly serious fear of heights to get on the fire escape.
The sacrifices we make for art.
What does a photo shoot cost? If Basics' experience is any indication — dedication to your art, tolerance for the heat, the bravery to overcome your personal fears, a broken pair of sunglasses, and maybe a small Venmo transfer. 😉
I have options starting at $200. Hit me up on Insta or email me: fallstownfuse@gmail.com
Follow the author on Facebook
Follow theFUSE on Instagram