Discover more from TheFUSE — A Wichita Falls Arts & Entertainment newsletter
TheFUSE is an independent newsletter about art, food, music, entertainment and happenings in Wichita Falls, Texas and the greater Texoma area. All photos and original content © FallstownFUSE.com
The Shrimp Po' Boy from Highlander Public House
Quality ingredients make all the difference
I did not secretly conspire with the staff at Highlander Public House to have them prepare a perfectly cooked tv commercial quality Shrimp Po' Boy and then photograph it in their dining room with studio lighting.
I thought I should start with that disclaimer because look at it. You order it, it arrives smelling amazing, and it looks delicious in the natural light coming in the windows.
I should note, I ordered mine without tomatoes, but I'm getting ahead of myself.
Highlander Public House is on Scott and 8th and their website describes it as "A Texas pub. A delightful Celtic/Texas fusion."
I chose to sit in the dining room on this day, and you can immediately see the Celtic/Texas fusion in the design and decor — the rich, chocolate-tone woodwork of an Irish Pub that pays homage in design to the exposed hand-hewn beams of a dining hall at a cattle ranch.
My server took my order, a nice young lady named Parker, and I thought it was both considerate and smart that she came by my table right before my order arrived to see if there was anything I anticipated needing (I asked for ketchup.)
And then my Shrimp Po' Boy arrived. Just look at it.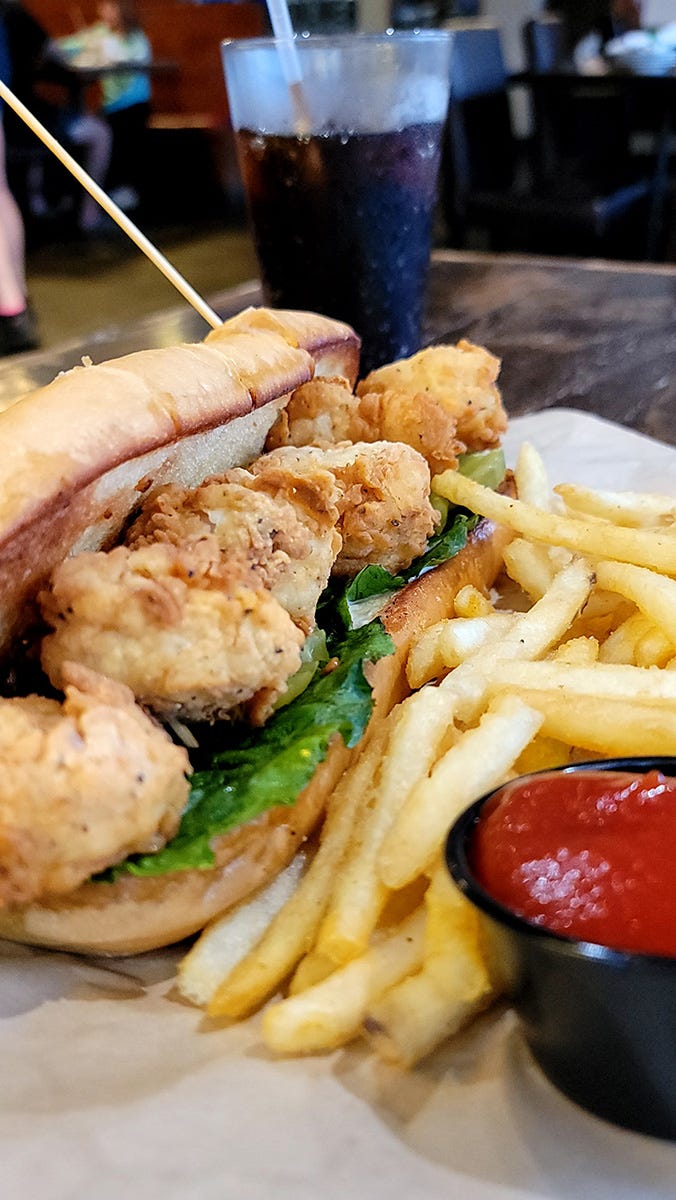 Quality ingredients make all the difference, and the Shrimp Po' Boy at HPH is not made with weak, franchise packaged shrimp. You can choose fried or blackened shrimp (I chose fried) and mine was plump and meaty; very tasty. The sandwich is served on a toasted bun with garlic aioli, pickles, lettuce, and tomatoes. My french fries were delicious and crispy, too.
You know how when you go to a place a bunch of times, you have to find your thing? I'd been to HPH a few times, and everything was always very good, but I hadn't found my thing… until today, anyway. The Shrimp Po' Boy at Highlander Public House.
I still want to check out the pub and the patio dining on a future visit. I know what I'll be ordering.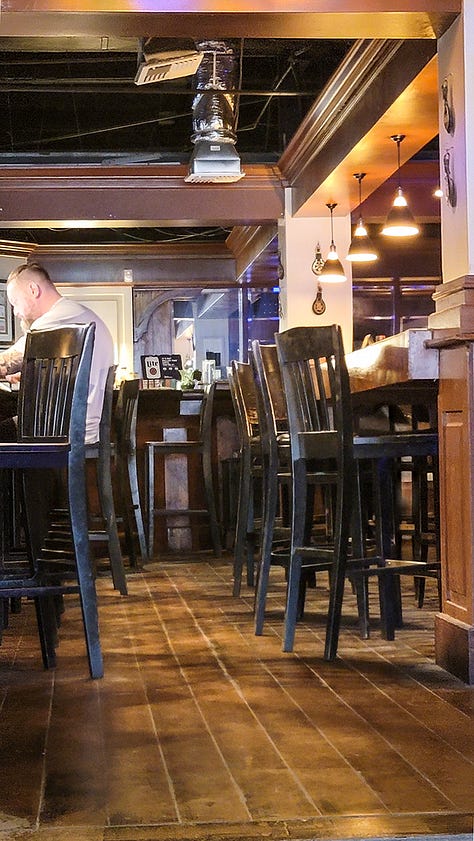 All photos by the author, © FallstownFUSE.com
Follow theFUSE on Instagram
---
The FallstownFUSE is a Wichita Falls arts & entertainment newsletter, and an independent publication. Join the fun, make comments, and access premium content with a paid subscription, plus you'll be supporting the local independent creators that make it possible. Please consider a free or paid subscription.