Discover more from TheFUSE — A Wichita Falls Arts & Entertainment newsletter
TheFUSE is an independent newsletter about art, food, music, entertainment and happenings in Wichita Falls, Texas and the greater Texoma area. All photos and original content © FallstownFUSE.com
New Realm Explores Uncharted Sonic Territory with New Vocalist Brandt Holmes
Formed in 2019 by guitarists Matt Skelton and TJ Stephens
In 2023 we've heard a number of people say the Wichita Falls music scene is coming to life — fresh faces are showing up on the scene, and familiar faces are getting the itch to perform again. New beginnings are everywhere we look. Wichita Falls metal band New Realm is no exception.
Guitarists TJ Stephens and Matt Skelton continue with New Realm, and after multiple line-up changes, the band is now fleshed out with Autumn Venzor on bass, Mark Chew on drums and Brandt Holmes on vocals. FUSE Collaborator Rob Ratliff sat down with New Realm to discuss the band's past, present and future.
FUSE: So are you working on an album?
TJ: We already have enough original material to do an album. We have 16 original songs.
Matt: Like an album and a half.
FUSE: What is your creative process like?
TJ: It's different man, we just get in there and we will just jam out. One of us will come up with something
Autumn: And we all play off of it
TJ: Yeah and we start trying to develop that piece and then before you know it something else will pop up. We will write a cool riff and we will sit on that thing for two months because we really don't like to force anything. I mean any riff we can just throw stuff together and just make a song, but we really want it to move us, in hopes it moves the audience.
FUSE: Did Brandt joining the band change the band's sound?
Matt: Oh yeah it changed the whole sound. We pretty much took the old songs and let him do what he wanted with them. It's better.
Mark: Yeah, but right as I had all the songs down, he comes along and changes everything. (laughs) But It ended up being awesome!
TJ: But that is what I like about working in this group is the ability to, and the want to, take something we have had for a while and completely change it up. Like shaking dice. And being able to pull that off and have it be even better than what it was before.
Brandt: Yeah, I have a very rigid style when it comes to structure and they are more spontaneous. So putting those together changed some of their stuff but it is also making me think in a different way. So it was freeing for me.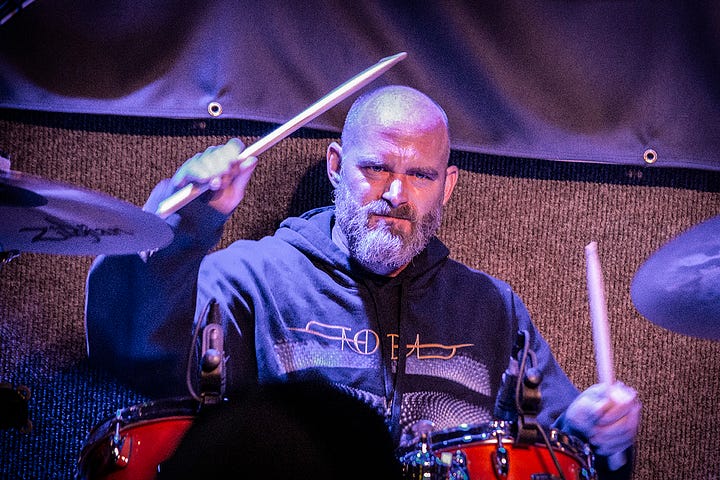 FUSE: It sounds like you push each other.
TJ: Yeah we literally have songs where our verse parts are completely different riffs.
Matt: But that is what I like about the group. Everybody knows their job, and everybody contributes.
Mark: And everybody pushes everybody
Matt: Yeah everybody pushes to be better and it adds to and it ends up to kick ass
Brandt: This is one of the hardest working bands I have been a part of. We all meet up here at 8, visit till about 8:30, but from 8:30 to 11:30 it is nonstop music. We take breaks but we are not sitting in our room bullshitting the whole time. When we are in the room we are instruments in hand and we are working. And it reminds me that everyone wants to put in their part because you don't want to be the weak link.
Matt: (laughs) Yeah that is what everyone is scared of.
Brandt: Yeah because we are a tough hard working unit and you don't want to be the weak link in that. And I was really intimidated and I didn't think it was going to work because I wouldn't call myself a metal singer but that is not what they needed. They needed a front man that believed in the songs.
Matt: But our idea was we knew how he sang, I mean we had watched Fleeting Romance and we were like cool, this will make us like a Sevendust or a Godsmack or like that kind of radio metal that appeals to a crowd but we can still be heavy. But he brings that sound that will make us more likable to a lot of people.
FUSE: Since Brandt has come along have you all created anything new?
Matt: Yeah, 4 out of 6 of our songs we have created with him. We only took two old ones and let him redo those.
Brandt: Yeah, I was super proud of the fact we were getting shit going so quick that I was wanting us to play like two months ago. (band laughs)
Matt: We were like "Wait, wait we gotta nail this set down."
Brandt: There was a month period where I was nervous. But when things started clicking we started knocking songs out. Once we got to four I knew we would get to six and six is what you need to put on a good show with the right dynamics mixed in. We have a six song set and it knocked everyone's socks off. If you had socks, you didn't when you left the show.
FUSE: Are there any direct influences for the band?
Mark: Yeah each of us has our own influences
TJ: Yeah that is what contributes to our sound. Like my first band was a death metal band. I cut my teeth in the underground. This is the first band I have been in with a vocalist that you can understand. But we are still bringing that intensity. For me, personally, it's cliche but Dimebag is the reason I ever wanted to play as a kid.
Matt: I think all of us draw upon that as far as the groove that Pantera brought to metal. That's it you gotta get that hook! To get the crowd going. But god for influences we all listen to everything from classical to metal to jazz.
Mark: Yeah I was jazz trained but like Danny Carey and Tool and Opeth and technical shit has been my forte.
Brandt: Me honestly, I was listening to eighties Madonna while I was working today. (laughs) But I grew up with country music because of my parents. I have an older brother who introduced me to eighties metal. And I have another brother who introduced me to grunge and it was always those two things until NuMetal came in. I got obsessed with that. When I got older I got into pop music because I like electronic beats. I got into Trent Reznor.
TJ: When I grew up my mom was into Motown and soft rock and my dad was classic rock and country. When I hit teenage years I listened to Rap. I didn't listen to metal until later in my teenage years and then it was just full bore metal. I think that is why Pantera appealed to me so much was my hip hop influence and that groove. You know I want to write metal songs that someone might want to shake their ass to.
Brandt: Yeah because the more the audience moves the more they like your song.
FUSE: I saw on Facebook you have a new t-shirt, who designs your art?
Matt: We (Autumn, Matt and TJ) three do. We (Matt and Autumn) do the hand drawn stuff and TJ does the computer stuff. Autumn and I run a tattoo and art studio
Brandt: Yeah they are like a renaissance couple playing music and doing art,
FUSE: Have you all thought about going into a recording studio?
Matt: It is in the plans we just don't know when. We need to get three or four (tracks) recorded.
TheFUSE will be checking back to see how things are going with New Realm, and we're eager to see and hear more.
Have you seen New Realm? Let us know in the comments.
Interview by Rob Ratliff.
Follow theFUSE on Facebook
Follow theFUSE on Instagram