Discover more from TheFUSE — A Wichita Falls Arts & Entertainment newsletter
TheFUSE is an independent newsletter about art, food, music, entertainment and happenings in Wichita Falls, Texas and the greater Texoma area. All photos and original content © FallstownFUSE.com
Happy Halloween from Man the Machine
Hard rock artistry that goes beyond music
The autumn wind and colder temperatures finally showed up in October of 2023, but Wichita Falls hard rock act Man the Machine ignited a bonfire when they played a Halloween gig at the Iron Horse Pub, and I was glad to be one of the crowd; to gather in the glow and absorb the heat. And make no mistake, Man the Machine heats it up.
Vocalist Nolan Cannedy put on an excellent show and has a versatile voice that's suited for a pretty wide range of material — from Mammoth WVH to Ratt.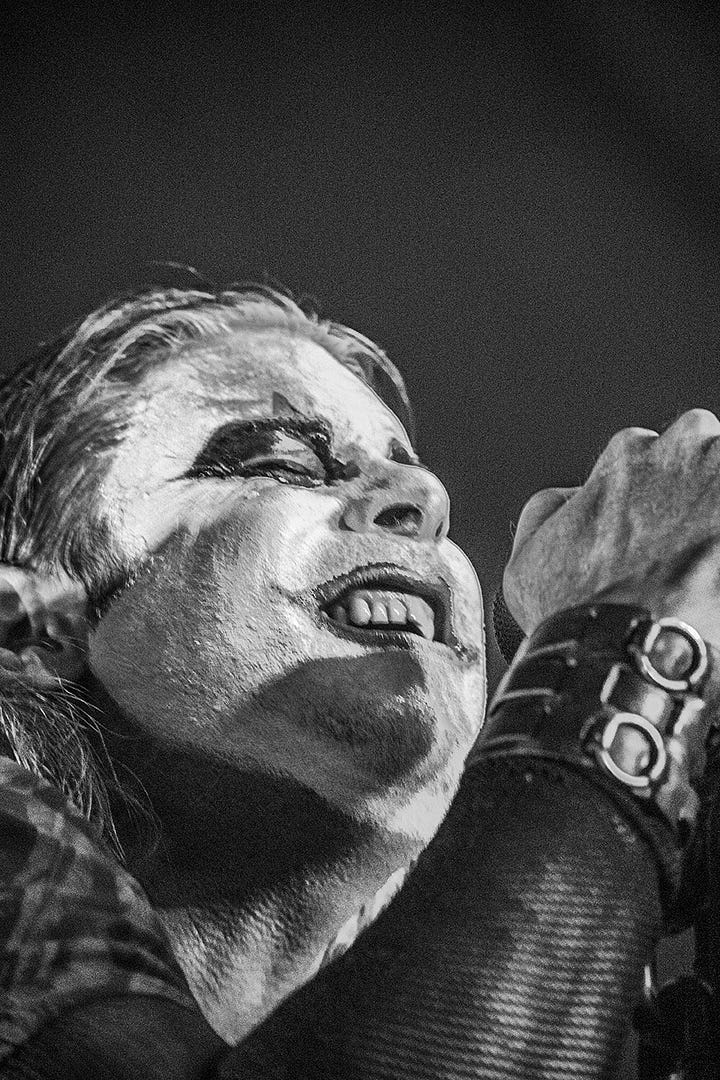 I did not know until shortly before the gig that Nolan Cannedy is not only a great rock vocalist and showman, he's also a talented illustrator who designed all the attention-getting promo art I'd been seeing on social media. "My day job is doing t-shirt designs for the US Army. I do all the art for Ft Sill, Ft Jackson, Ft Leonard Wood, and Ft Moore," Cannedy told me. "In fact, after our show, I didn't get to bed until 4:30 pm the next day because I had deadlines. Totally sucked."
Artistic inclinations considered, the Man the Machine show can give you an "artistry beyond music" impression — each member sporting Kabuki makeup and stage clothing, performing in front of attention-getting graphic backdrops.
Guitarist Jon Richerson is an impressive axe-wielder on his strat-style Jackson, and like the rest of Man the Machine, he puts on a show like he's in an arena, even in a small rock club.
TheFUSE supports our local musicians and artists. Would you consider a subscription to support TheFUSE?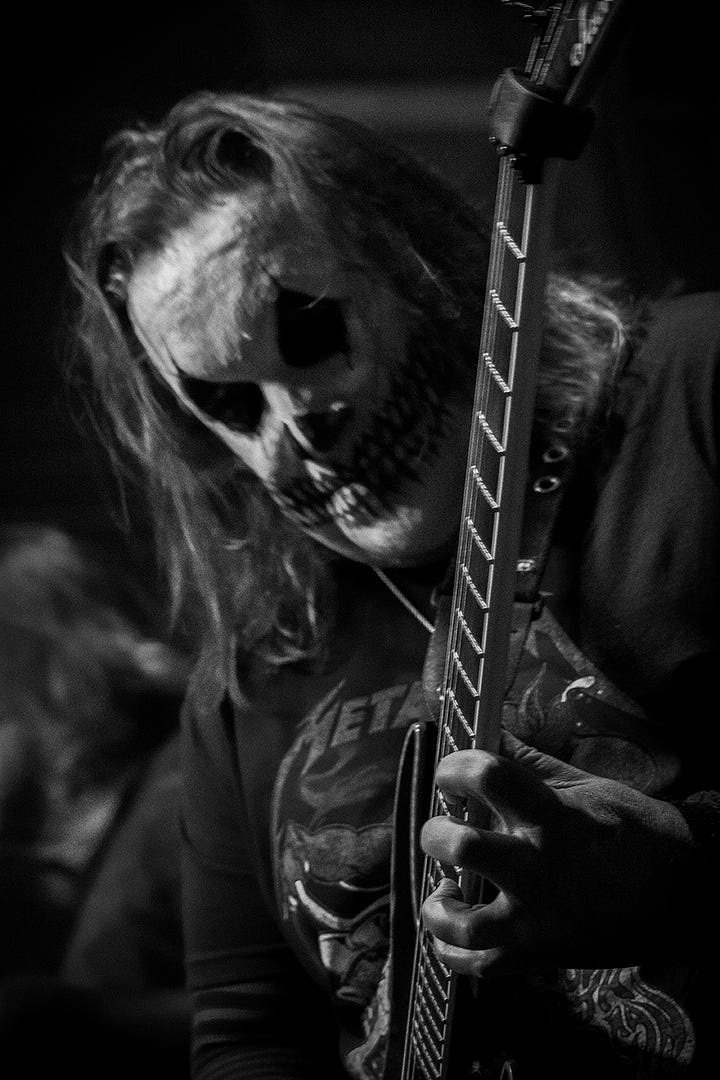 I was so impressed watching Jon play that I couldn't help but think he's better than your typical local guitarist playing in a rock band… Jon has technical prowess that reminded me of a session-musician, a "hired gun" so-to-speak. Jon has the talent of an educated musician, like the guitarists Alice Cooper hires to be in his band — a wild man capable of anything, but smart to enough to know when. In my personal opinion, Jon belongs in the top echelon of Wichita Falls guitarists, right alongside Ron Weaver of Better Strangers, among others.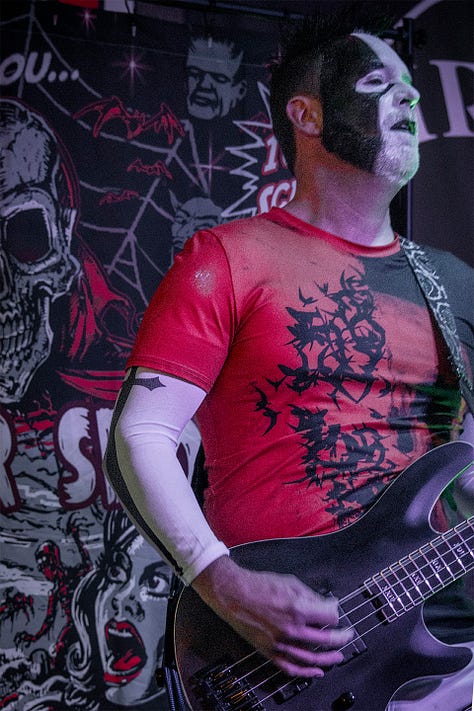 I got to chat with bassist Elvis Propest briefly before the show and complimented him on the Halloween backdrops they had onstage, and Elvis clued me in on a secret… "They're just shower curtains," he said.
Later, Nolan told me via DM "My job generally takes me 60 hours a week, so I 'm always short on time. Because of that, I just found the backdrops on Etsy and we went with it. But normally I do all of our stuff."
Shower curtain backdrops in place, Elvis and his partner-in-rhythm, drummer David Norman, laid down a solid foundation all night. Propest's bass is frontal and unabashed and leaves no doubt that this song is going somewhere.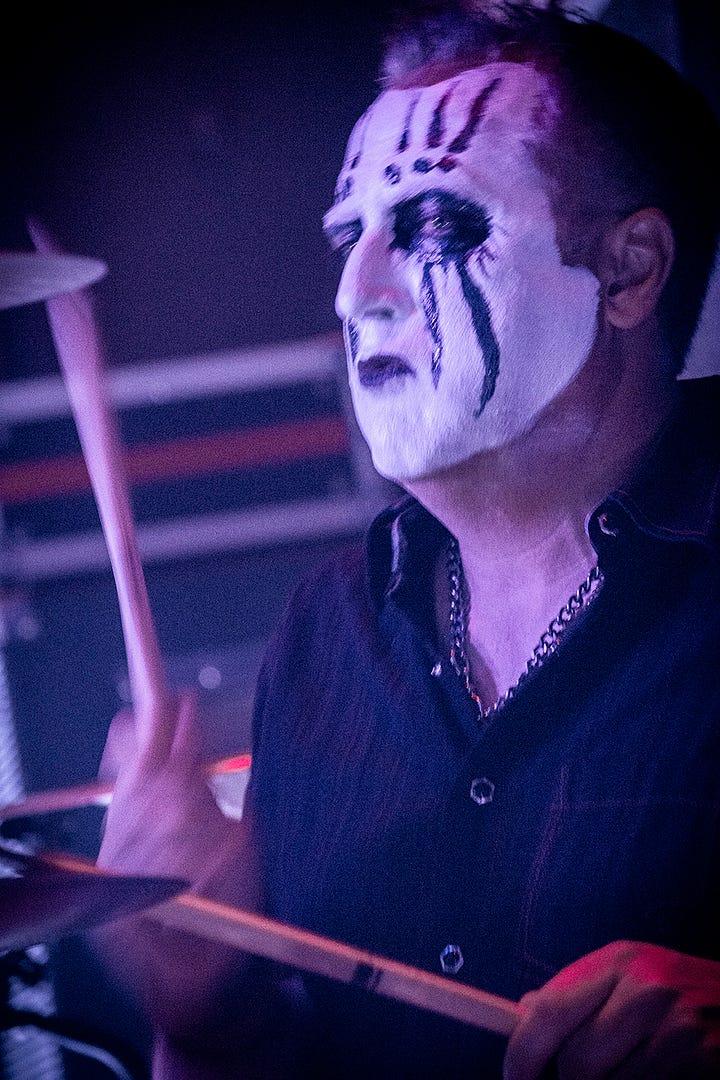 Late in the show, I was standing side-stage with drummer Chris Hunt of Hellen Bach and Man the Machine's David Norman was catching my attention with drumming that was heavy-hitting and loud, with a machine-gun, rat-a-tat precision. I looked at Chris and said "Holy sh&t, listen to David go!" and Chris looked at me with an expression that said, "Yes, dude. Enjoy it."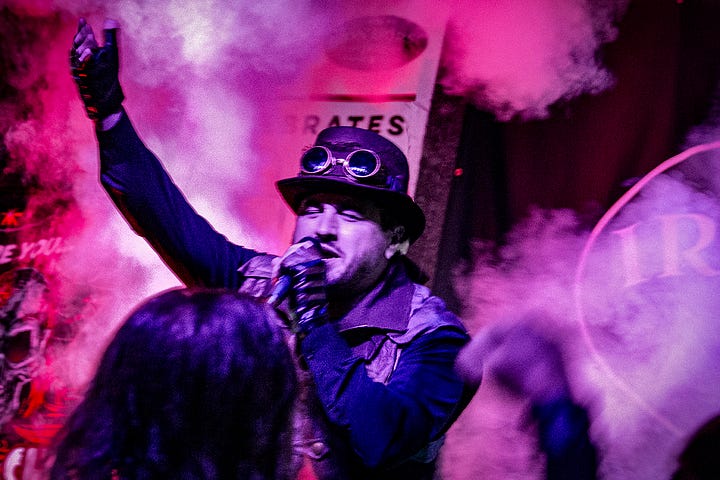 It was a Halloween show and one of the best parts was the lineup of guest performers, which included Larissa Brown of Hellen Bach, Michael Clark of Dirt, Greg Casillas of Better Strangers, and Angel Hunter with, ahem, Clint Vines in an uncharacteristic metal performance.
Have you seen Man the Machine perform? Let us know in the comments.
Follow theFUSE on Facebook
Follow theFUSE on Instagram